DISCONTINUATION NOTICE
DEWALT has decided to discontinue DEWALT Mobile Pro effective October 15, 2020. Learn more including options.
Welcome to DEWALT® Mobile Pro™!
Here are a few quick pointers to get you started!
Basic Navigation
Select a template or calculator in the
List
to display it. On the iPhone and iPod touch, rotate to landscape mode also shows a calculator. On the iPad, use in either portrait or landscape mode. Select "Templates" in portrait mode to see the list of templates.
Entering Numbers
Feet-Inch
Decimal
Fraction
Area
Volume
Using Templates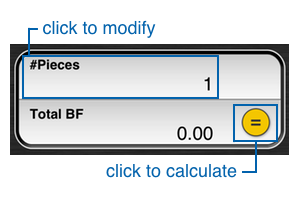 Select the row to enter data in the displayed editor. Select the equals button to calculate, if it doesn't do so automatically. For help, select "Overview" or "Examples" tabs.
Get More!
Select the Cart button at the bottom of
List
to purchase more calculations.
Learn More!
Click one of these links or choose the "?" in the calculator or Overview and Examples tabs in any template.